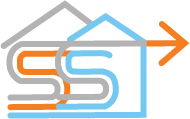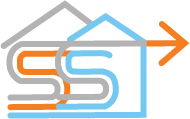 SOLID START
PROPERTY INSPECTIONS
The Melbourne building inspectors you can trust
Property Inspection Services
The aim of our comprehensive building inspection service is to provide you with a better understanding of the physical condition of your property to enable you to make a well informed decision.
Solid Start Property Inspections provide you with an extensive Inspection Report with full colour images that fully identify minor and possible major structural problems.  Click Here to view our Inspection Checklist.
Owner Builder Inspections
Solid Start are able to arrange an owner builder inspection and 137B report which fully complies with the Building Act to place in your Section 32 and warranty insurance provider's requirements. This report is essential and required to complete the Section 32 document at the time of sale and must be done by a registered building practitioner.
According to the Building Act it is an offence for an "owner-builder" to sell a building without a 137B Owner Bulider Report and Warranty Insurance if the house is less than 6.5 years old since the Occupancy or Final certificate was issued. This includes properties with a building permit issued to owner builders for new homes, additions, renovations and alterations over the value of $16,000.00.
Stage inspections are vital to checking building compliance at crucial stages of the building process.
If you are building a new home Solid Start offer stage inspections giving you peace of mind that your builder is complying to building codes of practice. We will inspect various stages such as pre-slab, steel reinforcement and placement or subfloor construction. Frame inspection to comply with Australian standards, i.e. lintel sizes, bracing and truss layout and fixing. Pre-lining or lock up, insulation and water-proofing. Final, including stair and handrail compliance, up to standard finishes, and energy rating compliance.
Special Purpose Inspections
Special purpose inspection reports can be organised for all manner of building requirements. Solid Start Property Inspections can supply specific reports to answer any pre-design structural questions if you're renovating or extending.  In order for you to work out the best way to build your extension/ renovation utilising the existing structural design you have and in the most efficient and effective way.
We can also review any potential drainage issues and resolve them.
Solid Start Property Inspections can also inspect properties to provide owners, builders or renovators with a costing estimate for any potential renovation, extension or new build.
Give Ian a call to discuss further on 0477 100 118.
Your builder is required by law to get a Building Surveyor, who issues the Building Permit, to complete "Mandatory" Inspections at various stages of a build. Often a builder employs their own building surveyor to review the stages of your build but be aware that the building surveyor actually works for you by law, not the builder.  Your surveyors job is an extremely important one, to make sure your builder complies with all the relevant codes and standards at every stage of the build.  To have an undetected or overlooked fault at an early stage of a build can cause dire and very costly consequences in the future.
The small amount invested in getting us to conduct a follow up, peace of mind, inspection, after your mandatory building surveyor inspection, gives you the opportunity to check things 'from a different angle'.  Providing you with an independent assessment and an unbiased professional to check other items you may have concerns about and answer questions you may have that haven't been satisfactory answered by your builder or surveyor.
The stages of these mandatory inspections are:
Pre slab (or stump holes)
Slab steel (or subfloor )
Frame
Final  (for the 'Certificate of occupancy' for new homes or 'Certificate of Final Inspection' for renovations)
Some examples we have experienced at SSPI are:
Building Supervisors these days are extremely busy.  You may have requested a room size change, a wall moved etc and he forgot to implement the request.  The building surveyor providing the Mandatory inspection would not be aware of this so therefore wouldn't check it whereas our inspection will pick this up.
Another possibility is that you may have paving in your contract with the builder, the Mandatory inspection is not required to pick up correct drainage, concrete expansion cuts etc.  We do all our Stage Inspections to a rigorous expansive checklist to make sure we don't miss anything important.
SSPI's Stage Inspections inspect the following:
PRE-SLAB INSPECTION
At the Pre-slab stage SSPI check the steel for correct size, layout, correct overlap etc as well as floor height, setout (position on the property) placement of penetrations  (plumbing) and more.
SUB FLOOR INSPECTION
For houses on stumps bearers and joists, at sub floor SSPI Check floor height, layout, correct materials and sizing and more.
FRAME STAGE INSPECTION
At frame stage SSPI check, room sizes, window placements, engineering, timber sizes, beam and lintel sizes, correct fixings, spacing's, correct bracing, truss fixing and hold down points and more.
FINAL OR PRACTICAL COMPLETION INSPECTION
At this stage we check for quality of finish, paint tiles etc, correct fit off, stairs, handrails smoke detectors, caulking to tiled areas, windows and doors, energy rating requirements and more.
Section 137b Reports – Owner Builder Inspection Reports
Owner-builders are required by law to sell a building with a  Section 137B Report or Owner Builder Report together with warranty insurance if the house is less than 6.5 years old since the Occupancy or Final certificate was issued.
This includes properties with a building permit issued to owner builders for new homes, extensions, renovations & alterations over the value of $16,000.
SSPI can provide expert owner builder inspections and Section 137B Reports, which comply with the building act to include with your section 32 and warranty insurance provider's requirements.
Mandatory inspections for Building Surveyors
Building a house is no small feat – there's a lot that can go wrong if tiny things are overlooked at any stage of the construction (particularly early on). Over months or years, faults that may have been overlooked as insignificant during construction can wreak untold havoc on a house.Even if your builder is diligent and careful, there's always a chance that something crucial is not quite right. For that reason, independent building inspections are a very important part of constructing a safe, and structurally sound house.  Consequently for the protection of your home the government have made building inspections at various stages of a new build mandatory.  It is a breach of the Building Act if the mandatory inspections are not requested and approved in accordance with the building permit. A Building Notice and enforcement action may result.  Only a Building Surveyor can actually issue building permits but as they are employed in a multitude of disciplines and are in high demand their time can be limited.  Solid State Property Inspections are often used by Building Surveyors to undertake some or all of the inspections the law requires.  SSPI has particular expertise in the construction aspects of a building and therefore well placed to advise a building surveyor on the level of compliance being achieved on-site.
The inspections that will be required for a new build of a home are normally listed on your building permits or approvals and may vary slightly from the ones listed below, depending on what state you're building in. Generally speaking though, a building surveyor will legally be required to sign off on:
Footings inspection – an inspection of the excavation work in preparation for your house's footings
Slab inspection / base stage inspection – an inspection of your home's concrete slab
Framing inspection – inspection of all of the framing work for your home
Waterproofing inspection – currently only mandatory in Queensland and NSW
Final inspection – a thorough top-to-bottom inspection of the completed house for compliance with regulatory issues
Dilapidation Report Inspections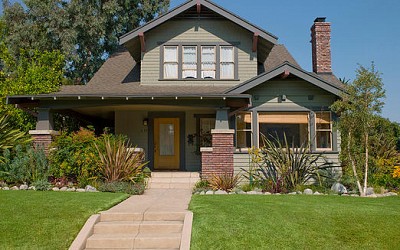 Dilapidation Report Inspections are inspections done prior to a build, demolition or excavation to the surrounding houses to document the existing conditions.Conditions such as  existing cracks, site damage, paving damage, fence damage etc. This provides both parties ( developer and neighbouring owners ) with a report of pre build conditions to help alleviate disagreements after the works are completed.
Pre Purchase Building Inspections, why get one?
If this is your first purchase or your 5th, it is still a huge investment. It is wise to know before you purchase the true condition of the property.Arranging a pre-purchase house inspection/ building inspection is a form of inexpensive insurance. If defects are found it is better to know earlier before you buy rather than later when they could cost you thousands.
It is also extremely important to engage a building inspector who was or is a registered builder (preferably unlimited) with years of experience and a good knowledge of the structural nature of your home.
Its one thing to say "oh there are some cracks", but you need someone who is experienced and trained enough to be able to determine why the are cracks. This is the only way you can accurately estimate the cost of repairs that may be needed.It all comes down to your peace of mind so you can make your offer on your dream home assured that you know what you are buying into.
And for this peace of mind what's the cost?
Let's say the average house is $600K an average building inspection equates to less than .1 of 1 % !. Very cheap insurance.
Pre Purchase Building Inspections, why get one?
You too can do a simple building inspection.
Here are a few tips or things you can / should look for when you are out looking at homes. Its all easy, its all just being aware and looking.
1. Look at the site fall – (which way back to front?) then have a look at where there should be drains to keep moisture away from the house. Is it there or adequate? Are all the downpipes connected to the storm water drains? If you don't think so look for moisture under the house which could be an issue.
2. Cracking – Look around outside for external cracking, check all 4 sides. Remember most homes will have some small cracks as they all move from season to season and they are not considered structural defects.
3. Check doors and windows for jamming – this is also a good test of whether a house has moved.
4. Check under sinks – laundry troughs etc quickly and look for damage from moisture.
5. Roof line – if you can stand somewhere where you can see the roof line, is it still nice and straight?
6. Check the fascia and gutter lines for the same – are they nice and straight? Is the fascia still sound?
7. Check inside the meter box or fuse box – Are there safety switches / earth leakage switches fitted? Remember most homes will have minor movement cracks, signs of ageing, wear and tear etc which aren't considered defects.

External Assessment
We inspect all external aspects of the building and surrounds including: roof line, flashing, eaves, gutters, downpipes, walls, windows, glazing, doors, stairs, porches, balconies, safety barriers, paint finish, boundary fences, car accommodation, clothes lines, council crossings and footpaths for damage during construction, driveways, landscaping, paths/paving, retaining walls, steps, stormwater run off, drainage and taps.
Internal Assessment
We also inspect all internal aspects of the building including ceilings, cornices, walls, architraves, skirting boards, floor structure and covering, cabinets, fly screens, ventilation, paint finish, doors, windows, glazing, stairs, fittings and appliances. If relevant and accessible we also thoroughly inspect the roof space and sub-floor space for any defects.
Termites
Solid Start recommend you contact your local council to enquire about termite inspection recommendations.
You can download an example of our pre-purchase property inspection report here: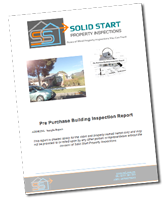 All Pre-Purchase Inspection Reports prepared by Solid Start include a summary description of the building and surrounds and itemise all defects that are apparent at the time of inspection. Listed below are some important items examined and noted by Solid Start Property Inspections:
Foundations & Footings
External and internal walls are visually checked for cracking or signs of movement.
Brickwork
The physical appearance of bricks used and the correctness of the laying of brickwork is thoroughly checked.
Mortar
Mortar is checked for signs of visible imperfections, weakness or crumbling. Asimple test is conducted to assess the strength or mortar. A further check by an accredited testing laboratory may be recommended. 
Damp Proof Course (DPC)
A check is conducted to determine the presence of a DPC. If the omission of a DPC appears to have caused dampness, we advise you and provide solutions on how to treat this problem.
Site Drainage
Poor site run-off or lack of connection of downpipes to stormwater drainage that results in obvious boggy areas is noted. 
Roof Condition
The roof covering and its associated plumbing (flashing, gutters, downpipes) are visually inspected to detect any defects, such as broken tiles, leaks or blocked downpipes.
Roof & Sub-floor Structure
Visual inspections from access points are undertaken to determine the condition of the structural components. Any apparent signs of sagging, lack or support, moisture, rot or faulty services are noted.
Insulation
The presence and adequacy of roof space insulation is reported on, where accessible.
Paint Finish
Imperfections, inconsistencies in paint finish are noted.
Floors, skirting, architraves, walls, cornice, ceilings, doors, cupboards, appliances, etc.
All visible defects are noted and reported.
You can download an example of our pre-purchase property inspection report here: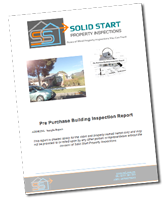 Major structural issues or minor common problems can lead to serious issues, unless they are found before you purchase your property. Here are some key problems you MUST know about before making life-changing decisions about your future.
| | |
| --- | --- |
| | Pre Sales Inspections & Advice |
| | Pre Purchase Building Inspections |
| | 24 hour Building Inspections & Reports |
| | Informed Negotiation |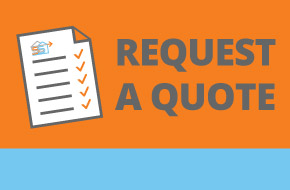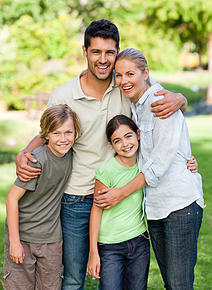 Our comprehensive Solid Start Inspection Reports provide you with all the details you need to make informed decisions about your property.