Property Inspections in Melbourne
We provide property inspections reports including pre-purchase property inspections in Melbourne. All property Inspection Reports prepared by Solid Start include a summary description of the building, surrounds and itemise all defects that are apparent at the time of inspection. Listed below are some important items examined and noted by Solid Start Property Inspections.

To Speak with one our inspectors or to arrange an obligation free quote contact us today.

What we Look For
Foundations & Footings
External and internal walls are visually checked for cracking or signs of movement.
Brickwork
The physical appearance of bricks used and the correctness of the laying of brickwork is thoroughly checked.
Mortar
Mortar is checked for signs of visible imperfections, weakness or crumbling. Asimple test is conducted to assess the strength or mortar. A further check by an accredited testing laboratory may be recommended.
Damp Proof Course (DPC)
A check is conducted to determine the presence of a DPC. If the omission of a DPC appears to have caused dampness, we advise you and provide solutions on how to treat this problem.
Plumbing
Plumbing works, fixtures & fittings are visibly checked for good working order. Any visible leaks, drainage problems or other defects such as lack of water pressure or slow drainage are noted.
Site Drainage
Poor site run-off or lack of connection of downpipes to stormwater drainage that results in obvious boggy areas is noted.
Electrical Wiring
The condition of the meter and switchboard, powerpoint testing and visual examination of wiring in the roof space, where accessible, and elsewhere, is checked to assess the state of electrical wiring. A further check by a licensed electrician may be recommended.
Roof Condition
The roof covering and its associated plumbing (flashing, gutters, downpipes) are visually inspected to detect any defects, such as broken tiles, leaks or blocked downpipes.
Roof & Sub-floor Structure
Visual inspections from access points are undertaken to determine the condition of the structural components. Any apparent signs of sagging, lack or support, moisture, rot or faulty services are noted.
Insulation
The presence and adequacy of roof space insulation is reported on, where accessible.
Paint Finish
Imperfections, inconsistencies in paint finish are noted.
Floors, skirting, architraves, walls, cornice, ceilings, doors, cupboards, appliances, etc.
All visible defects are noted and reported.
You can download an example of our pre-purchase property inspection report here: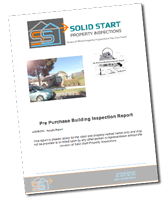 | | |
| --- | --- |
| | Pre Sales Inspections & Advice |
| | Pre Purchase Building Inspections |
| | 24 hour Building Inspections & Reports |
| | Informed Negotiation |